User Guide
---
User guide
This guide describes how to use Infinidex functionality within Confluence, so that a search (of folders and network shares) is integrated into the search page in Confluence.
Pre-requisites
You must have installed Infinidex as per the Installation Guide, configured it as per the Administration Guide and be logged in as an authorized user. Please make sure your system is supported.
Content
A search with Infinidex is performed as follows:
Enter a keyword (or blank) into the search bar in the top of Confluence.

Invoke the search by pressing Enter or by clicking the search button.
The search will execute and take the browser to the search page which will show the results. The search page shows three colums, of which the last column shows the Infinidex search results.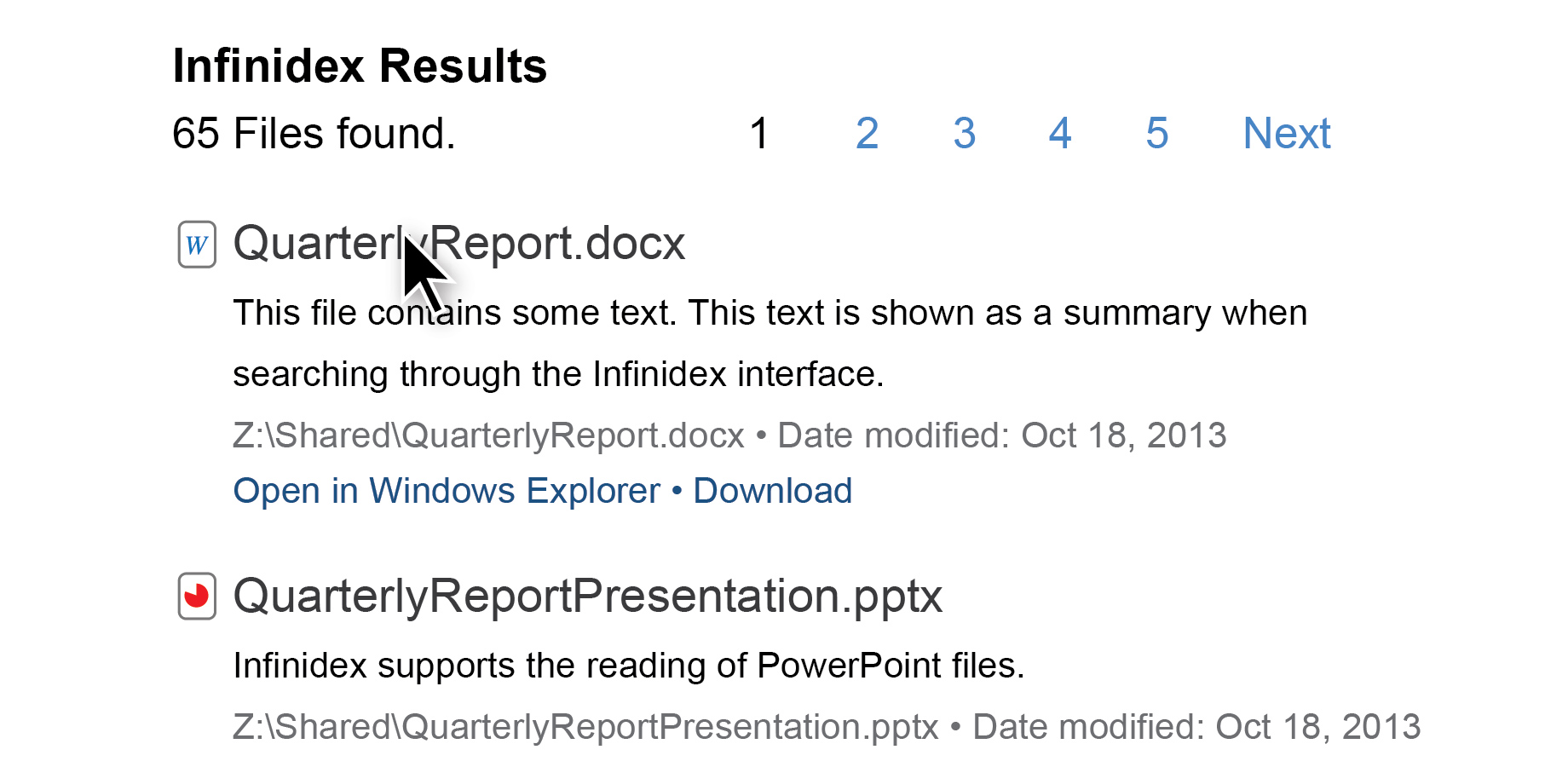 If there are more than 10 results, use pagination by clicking Next or Previous (or by clicking the numbers in between). For each search result, the following information is printed:
The filename.
A summary (if possible).
The path to the file (from the servers perspective).
The date when the file was last modified.
Two options: Open in Windows Explorer/Finder/file browser, and Download.
Opening files
By clicking Open in Windows Explorer/Finder/file browser, an URL file is downloaded in the internet browser. This file must be opened in order to open the actual file in the appropriate application.
Depending on the operating system used (Microsoft Windows or OS X are currently supported), two things can happen when opening the URL file.
If using Microsoft Windows, the file will be opened by Windows Explorer, and if Windows Explorer know the file type, the appropriate application is opened with the file as an argument.
If using OS X, Safari displays the file if it supports displaying the file. If not, a Finder window opens up in a folder with the file highlighted.
By clicking Download, the file is downloaded within the internet browser, no matter the platform.
Network Shares (making "Open in Windows Explorer" work)
For more information on adding network shares, read the FAQ: How do I map a network share in Windows? (As a client) or How Do I Map A Network Share On Windows? (On the server running confluence)